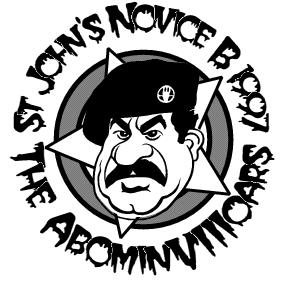 Hit by disaster, swamped in illness and buggered by rule changes sums up one side of the Novice B's this year. Nick named the AbominVIIIoars due to there well above 'B' standard rowing, this was a good crew.
My first serious attempt to coach a crew for any sustained period of time was stupidly agreed with Nigel Walder (mens captain) late last term when myself and Pete Ward agreed to up our early morning stints and both row ourselves and coach a crew ....
At times the most rewarding thing in the world at others like exploring the inside of a dogs bottom without a gas mask, this term had it all. However, I have to say that we both enjoyed the experience, and will (like lambs to the slaughter) be back next term for more, hopefully coaching a good number of you in the 2nd eight ....
The proof of the pudding has to be in the racing, and the Novice B's never lost a race, so that has to be down to good coaching. The crew is, or rather was as follows ...

Stroke
Colin 'Hard Boy in Shorts' Coward
Seven
James 'Pete has three thumbs' Yates
Six
Sharif 'Larey bastard pulls for six fully grown oxen' Sakr
Five
Jack 'sick boy' Bertram
Four
Adam 'ok, so I can't row' Darling
Three
Dan 'spaced out, but runs like a fucking antelope' Heesche
Two
Matt 'I have a huge organ' Morrison
Bow
Tim 'Chief' Hill
Cox
Liz 'I can mount 8 men and a raft' Cripps
Coaches
Ben 'Git' Ollivere
Pete 'Look no thumbs' Ward